We will be closed from July 22 to August 20, 2023 inclusive.
Our production times are currently 6 to 8 weeks, we invite you to anticipate your orders so that we can deliver to you on time!
Close
Celestas 5 octaves
Celestas 5 octaves (Percussion instruments/Glockenspiels & Celestas) By Rythmes et Sons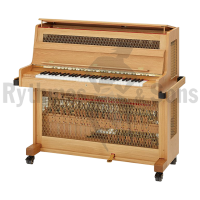 SCHIEDMAYER 5 octaves Celesta
Ref. CEL SM1051
Contact us
Restock in progress
The celesta is a musical instrument of the percussion family.
It is equipped with a keyboard so the keys activate hammers in order to strike metal/steel blades.
The sound produced by the celesta is crystalline.