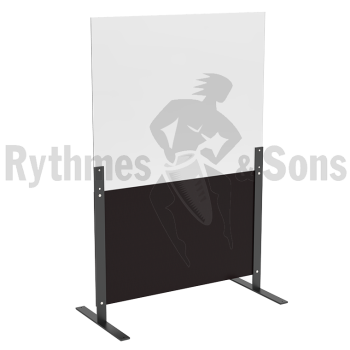 Bi-material protective partition 1,20xH1,80m
Ref. MCO SR2 120181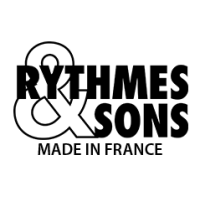 Benefits:
Anti-postilion protection
Resistant to UV rays
Multiple uses: acoustic partition, communication/display board
Easy to clean
Stable
Mobile (optional casters)
Developed and manufactured by Rythmes & Sons in France
Manufacturing time:
3 to 4 days for 100 pieces
200.00€ Excl.VAT
veuillez vous connecter pour voir vos avantages sur le produit
to buy or request a quote
---
---
---
Technical specifications
Floor Mobile Protective Partition,
half transparent half blackout, dim. 1,20xH1,80m / 47.2"x23.6"xH71.2"
This floor partition is ideal for delimiting a space.
The partition provides effective protection against projections of postilions and limits contact between people by making the environment safer.

This partition can be used in several places such as:
- In openspace between workspaces,
- At school between class tables or in the canteen,
- In a hotel at the reception or in the breakfast room,
- In a restaurant between the tables,
- In factories between machines or workstation,
- In a hairdressing salon between the armchairs,
- ...

This partition is multi-purpose because it can also be used as an acoustic partition, display or communication board.
Upper part in transparent and rigid polycarbonate 8mm thick:
Dimensions: 1,2xH1m
Resistant from -10° to 70°
Recyclable
Easy to clean and disinfect
Lower part in 9mm black phenolic faced birch plywood
Dimensions: 1,2xH0,7m
Resistant to wear, weather and common chemicals
Complies with ISPM15 standard
Easy to clean and disinfect
Stable T-shaped steel support:
Stable footprint of 120x60cm which guarantees very good stability to the partition
Black grained polyester paint finish highly resistant to scratches and UV rays
Nested base to optimize storage (up to 10 partitions)
Easy to clean and disinfect
Infinite juxtaposable partitions
Height of the partition adapted to the door passage

Quick and easy assembly by screwing
Developed and manufactured by Rythmes & Sons in France
In option:
Set of 4 castors ref. MCO CLS-4R80+V
Keywords : agency, anti-contamination, anti-postilion, anti-projection, beauty salon, conservatory, coronavirus, counter, covid-19, factory, fence, hair salon, home, hygiaphone, hygiene, infection, limitation, museum, music school, office, plate, protect, protection, readable, sanitary screen, school, security, separation, shop, showcase, store, support, translucent, transparency, wall, window